NAVIEN NPE-240A CONDENSING TANKLESS WATER HEATER 11.2 GPM
$4,620.00
Members Price: $3,971.00
Free Shipping For Members
Become A Member
Product Description
½ gas pipe capable up to 24′

Field convertible gas system

Ultra condensing efficiency

Dual stainless steel heat exchangers

Low NOx emissions (20ppm)

SCH 40, 2″ venting up to 60′

Cascading capable
Overview
NPE‑A: the inside story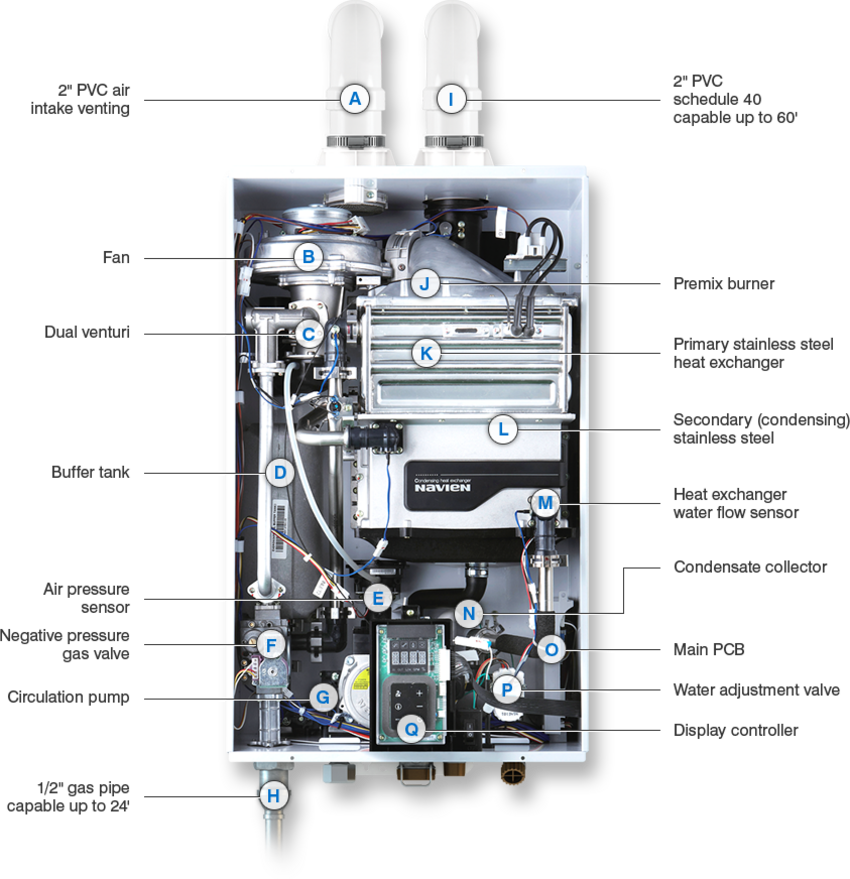 Quickfacts
17.3″ W x 27.4″ H x 13.2″ D (43.9cm W x 69.6cm H x 33.5cm D)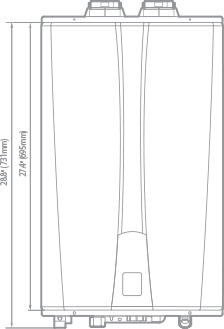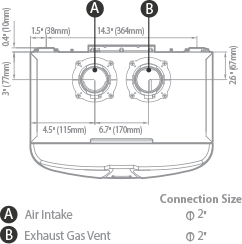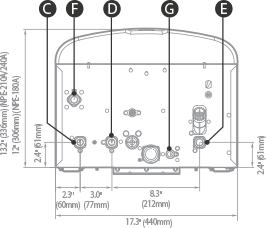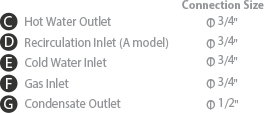 ---
NPE-240A-NG
NPE-240A-LP
Product approvals
CSA
Yes
Yes
NSF

(Standard 5)

Yes
Yes
Low Lead

(<0.25%)

Yes
Yes
SCAQMD 1146.2

(NOx, <20ppm)

Yes
Yes
AHRI Number
6678382
6678382

Energy Star Certified

Yes
Yes
Efficiency Ratings*
Uniform Energy Factor

(UEF)

0.96
0.96
MAX GPM

(67°F Rise)

5.6 GPM (21.2 l/m)
5.6 GPM (21.2 l/m)
Annual Energy Consumption* (Residential)
Natural gas

(Therms/Year)

175.0
Propane

(Gallons/Year)

193 gal (730.6 l)
Estimated Operating Cost**
$191
$465
*Based on U.S. Department of Energy (DOE) test procedures.
**Based on a national average natural gas cost of $1.09/therm, propane cost of $2.41/gallon.
| | | | | | | | | | | | | | | | | | | |
| --- | --- | --- | --- | --- | --- | --- | --- | --- | --- | --- | --- | --- | --- | --- | --- | --- | --- | --- |
| Temp Rise (°F) | 30°F | 35°F | 40°F | 45°F | 50°F | 55°F | 60°F | 65°F | 70°F | 75°F | 80°F | 85°F | 90°F | 100°F | 110°F | 120°F | 130°F | 140°F |
| 240 Series GPM | 11.2 | 11.2 | 9.8 | 8.7 | 7.8 | 7.1 | 6.5 | 6 | 5.6 | 5.2 | 4.9 | 4.6 | 4.4 | 3.9 | 3.6 | 3.3 | 3 | 2.8 |
DHW Capacity
| | |
| --- | --- |
| Model | NPE-240A |
| Natural gas | 19,900 – 199,900 BTU/H (5.831 – 58.571 kWh) |
| Propane | 19,900 – 199,900 BTU/H (5.831 – 58.571 kWh) |
| | |
| --- | --- |
| Navien Tankless | |
| Other Tankless | |
| 50 Gallon Tank | |
* Based on Energy Guide cost estimates using $1.09 per therm of natural gas. Cost is in US dollars.
Lower HERS home index score
U.S. Green Building Council LEED Points
| | |
| --- | --- |
| Water Heater | 1 Point |
| Location | 2 Points |
| Recirculation | 3 Points |
Item
NPE-240A
Heat Capacity (input)
Natural gas
19,900 – 199,900 BTU/H (5.831 – 58.571 kWh)
Propane
19,900 – 199,900 BTU/H (5.831 – 58.571 kWh)

Efficiency Ratings

UEF (NG & LP)
0.96
Flow rate (DHW)
35°F temp rise
11.2 GPM (42.4 l/m)
45°F temp rise
8.7 GPM (32.9 l/m)
67°F temp rise
5.6 GPM (21.2 l/m)
Dimensions
17.3″ W x 27.4″ H x 13.2″ D (43.9cm W x 69.6cm H x 33.5cm D)
Boiler weight
82 lbs (37.2 kg)

Installation Type

Indoor or outdoor wall-hung

Venting Type

Forced draft direct vent

Ignition

Electronic ignition
Water pressure
15 – 150 PSI (1.055 – 10.545 kg/cm2)
Natural gas supply pressure (from source)
3.5 " WC – 10.5 " WC (0.87 Kpa – 2.61 Kpa)
Propane gas supply pressure (from source)
8 " WC – 13 " WC (1.99 Kpa – 3.23 Kpa)
Natural gas manifold pressure (min-max)
-0.05 " WC – -0.58 " WC (-0.012 Kpa – -0.14 Kpa)
Propane gas manifold pressure (min-max)
-0.1 " WC – -0.78 " WC (-0.025 Kpa – -0.19 Kpa)
Minimum flow rate
0.5 GPM (1.893 l/m)
Connection sizes
Cold water inlet
3/4″

Hot Water Outlet Size

3/4″
Gas inlet
3/4″
Power supply
Main supply
120V AC, 60Hz
Maximum power consumption
200W (max 2A), 350W (max 4A) with external pump connected
Materials
Casing
Cold rolled carbon steel
Heat exchangers
Primary heat exchangers: stainless steel; secondary heat exchangers: stainless steel

Venting

Exhaust
2″ or 3″ PVC, CPVC, polypropylene / 2″ or 3″ special gas vent type BH (Class II, A/B/C)
Intake
2″ or 3″ PVC, CPVC, polypropylene / 2″ or 3″ special gas vent type BH (Class II, A/B/C)
Vent clearances
0″ to combustibles
Safety Devices
Flame rod, APS, ignition operation detector, water temperature high limit switch,exhaust temperature high limit sensor, power surge fuse
*Available for "A" models configured in an optional ComfortFlow recirculation mode. Additional energy use will occur when using recirculation.
Navien reserves the right to change specifications at any time without prior notice.
Warranty
Applicable Warranty Periods
Product
Labor
Parts
Heat Exchanger
NPE-Advanced (Residential)
Standard or Controlled Recirculation2 produced on or after Jan. 1, 2016
1 Year
5 Years
15 Years
Uncontrolled Recirculation3 produced on or after Jan. 1, 2016
1 Year
3 Years
5 Years
Residential Use Application for units produced before Jan. 1, 2016
1 Year
5 Years
15 Years
NPE-Advanced (Commercial or Combi1)
Standard or Controlled Recirculation2 for units produced on or after Jan. 1, 2016
1 Year
5 Years
8 Years
Standard or Controlled Recirculation2 for units produced before Jan. 1, 2016
1 Year
3 Years
10 Years
Uncontrolled Recirculation3
1 Year
3 Years
3 Years
---
1Combi refers to a combination potable water and space heating application. Water heaters cannot be used in space heating only applications.
2Controlled-Recirculation: Recirculation the water heater is controlled by either the water heater or an external aquastat.
3Uncontrolled-Recirculation: External pumps configured to circulate continuously through the water heater are subject to the uncontrolled recirculation warranty terms. An aquastat is the minimum pump control requirement for DHW or storage tank recirculation in order to maintain the full controlled warranty.
Warranty Claim Procedures
To obtain warranty repair service, the end user or homeower must contact the original installer of your Navien product. If the original installer cannot be identified, the end user or homeowner may contact Navien's Technical Administration Department at (800) 519-8794. Proof of purchase is required to obtain warranty service.
Warranty Service
At its option, Navien will replace the defective component (part(s) or heat exchanger), in accordance with the terms of this Limited Warranty, if it fails in normal use and service during the applicable warranty period identified above. The replacement component must be Navien original factory component. Navien, at its sole discretion, may replace the product with a new or refurbished product of comparable quality and design. The replacement component or product will be warranted only for the unexpired portion of the original component's applicable warranty period. Payment for labor in completing the warranty service is subject to Navien's prior written approval and shall be subject to Navien's schedule of approved labor allowances.
Warranty Exclusions
Navien's Limited Warranty shall be void in the event of an occurrence of any of the following :
Product purchased through the internet, other e-commerce channels, or any installer that obtained the Product from a supplier or distributor not authorized by Navien.
Improper installation, failure to install in strict compliance with the Installation Manual procedures, installed by a non-licensed installer, and installation in violation of applicable rules, laws or building codes.
Failure to perform regular maintenance, misuse, operation at settings other than those recommended or specified, non-compliance with instructions or guidelines set forth in the User's Operation Manual.
Modification or alteration of the Product in any manner, including but not limited to, removal of any component or part, addition of any non-approved components, relocating or moving the Product from its original installation site, or any accidental or intentional damage to the Product.
Installation for non-recommended uses.
Any damage caused by local adverse conditions including but not limited to hard water deposits, lime or mineral build-up, operating in corrosive atmospheric elements.
Damage or problems caused by gas flow issues, electrical surges, flooding, fire, abnormal external temperature, and any other cause of damage not directly caused by a manufacturing defect.
Installer's failure to fully comply with the Warranty Service and Return Policy procedures previously provided to Installer and as is available on Navien's website. Such policies include but are not limited to the Installer's failure to first contact Navien Tech Support while in front of the product for purposes of trouble shooting the identified problem or issue.
Use of the NPE Series Water Heater for space heating only purposes shall void the warranty.
Performance problems caused by improper sizing of the water heater, the gas supply line, the venting connection, combustion air openings, electric service voltage, wiring, fusing or any other components, parts or specifications.
Improper conversion from natural gas to LP gas or LP gas to natural gas or attempt to operate with a type of gas not specified for the water heater.
Any damage, malfunction or failure caused by abuse, negligence, alteration, accident, fire, flood, freezing, wind, lightning and other acts of God.
Operating, using or storing the water heater in a corrosive or contaminated atmosphere or environment.
Operating the water heater at water temperatures outside the factory calibrated temperature limits and/or exceeding the maximum setting of the high limit control.
Operating the water heater when it is not supplied with potable water at all times.
Subjecting the heat exchanger to pressures or firing rates greater or lesser than those shown on the rating plate.
Installation at any location outside the United States and Canada.
Removal or alteration of the rating plate.
Other Terms
This Limited Warranty is subject further to the terms and conditions set forth herein and as may be further specified in the Terms and Conditions page located on Navien's website at WITH THE EXCEPTION OF THIS LIMITED WARRANTY, NAVIEN DISCLAIMS ANY OBLIGATION OR LIABILITY WITH RESPECT TO THE PRODUCTS OR THEIR SALE AND USE, AND NAVIEN NEITHER ASSUMES NOR AUTHORIZES THE ASSUMPTION OF, ANY OBLIGATION OR LIABILITY IN CONNECTION WITH THE PRODUCTS. THIS DISCLAIMER INCLUDES ANY OTHER WARRANTIES, EXPRESS, IMPLIED OR STATUTORY RESPECTING THE PRODUCTS OR ANY PARTS OR COMPONENTS THEREOF, INCLUDING, BUT NOT LIMITED TO, ANY IMPLIED WARRANTY OF MERCHANTABILITY OR FITNESS FOR A PARTICULAR PURPOSE. Navien's total liability for any claim arising hereunder shall not exceed the purchase price which you paid for the Product. NAVIEN SHALL NOT IN ANY EVENT BE LIABLE FOR INDIRECT, SPECIAL, CONSEQUENTIAL OR LIQUIDATED DAMAGES OR PENALTIES, INCLUDING CLAIMS FOR LOST REVENUE, PROFITS OR BUSINESS OPPORTUNITIES, EVEN IF NAVIEN HAD OR SHOULD HAVE HAD ANY KNOWLEDGE, ACTUAL OR CONSTRUCTIVE, OF THE POSSIBILITY OF SUCH DAMAGES.