Honeywell Skybell Trim Plus WIFI Video Doorbell, 1080P, Silver
$249.00
Members Price: $236.55
Free Shipping For Members
Become A Member
Product Description
The SkyBell Trim Video Doorbell lets you answer the door from home, office, on vacation or around the world as long as you have an Internet connection for your smart phone.
Homeowers will receive a push notification and can then have a two-way audio conversation while being able to view visitors at the door.  You'll be notified when the Skybell doorbell button is pressed and if desired you can also receive notifications when motion is detected from the built in motion sensor.
In addition, you'll be able to proactively view video any time using the free iOs or Android apps.
Video and history are saved for 7 days with the free Skybell cloud service.  Video may be downloaded and you can also snap a still shot of the live feed any time you wish.
Skybell uses your 2.4 GHz WiFi network connection and has a high definition colour camera with a 180° field of view. It even works at night with colour night vision.
This model works with the Skybell cloud service as well as the Honeywell TotalConnect service.
This hardwired unit connects to your existing doorbell wiring for power and works with analog traditional doorbell chimes.  If you have a digital chime you will need a digital adapter.  You may use a 16VAC power supply without a doorbell chime but see installation notes about the required resistor.
Note:  Skybell requires MINIMUM 1.5Mbps upload speed with always on Internet connectivity at the installation location.  Please check your Internet speed and the type of existing doorbell chime before ordering to confirm compatibility.
Comes in a satin nickel finish. Available also in bronze. Does not come with wedge plate.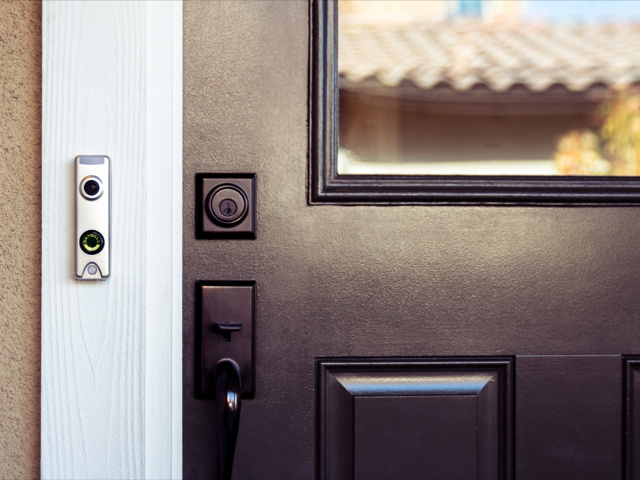 Honeywell DBCAM-TRIM Skybell WiFi Video Doorbell Features:
1920 x 1080 @15fps
180° Field of View
Allows for two-way conversation from a smartphone or tablet
Full-colour night vision
Video storage of up to 500MB
Built-in PIR motion sensor
iOS and Android compatible
IP54-Rated for dust & water resistance
H.264 compressions
Operating temperature: -40 to 140°F (-40 to 60°C)
Dimensions: 4.8" x 1.44" x 1.13″